Owners of Kookoo's Nest Eco-lodge and Scuba Diving School at Antulang, Negros Oriental
Profile of Jamie and Nikki – English Expats Starting a Business in the Philippines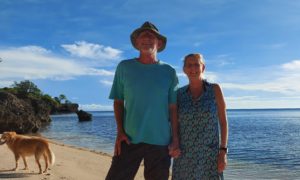 Though similar to other expats starting a business in The Philippines, by any measurement, the lives of Jamie and Nikki are extraordinary. They are a throwback to a bygone age when embracing adventure was the norm rather than the exception. Our challenge was how to do justice to their extraordinary journey. Theirs is a story of adventure, excitement, danger, and courage. After a lifetime of travelling, their international wandering ended nineteen years ago when they were exploring the southern end of Negros Oriental by canoe. Drifting along the Antulang Peninsula they found themselves in Tambobo Bay. Then, by chance or perhaps not, they silently paddled into what would later be called Kookoo's Nest beach. Unknown to them, their odyssey was over. They were about to begin a new chapter to their already adventurous lives that would link them to the Philippines, and in particular, to the Dumaguete area.
Their story together began in England twenty-five years ago. Jamie was asked by a friend in Bristol to drive a double decker bus to Southampton where it would be involved in a TV series being made there. In what can now be seen as a reflection on his attitude to life, the fact he'd never driven anything bigger than a Morris Minor car presented no problem for Jamie. He quit his job as a cabinet maker and hastily learned by trial and error how to drive the bus. Unknowingly, he was embarking on a new life that would take him to several continents, to Nikki, and finally to create Kookoo's Nest Eco-Lodge in the Philippines.
So how did they meet? Nikki was involved in catering at the same TV production in Southampton. Along came Jamie who parked the bus and walked around checking out the scene. Minutes later, Nikki unconventionally introduced herself by throwing a lemon meringue pie at Jamie's face. Jamie returned her greeting by pouring a bowel of whipped cream over Nikki's head. He then asked her would she travel with him to Africa. She immediately agreed. Later that night they finally exchanged names. Seriously.
When the TV production wound up, they set off in a dilapidated land Rover to drive the length and breadth of the African continent. They drove through Africa from North to West to South, eventually arriving into Johannesburg, South Africa. That's a remarkable journey. As you can imagine, there were not many Land Rover service stations along the way, so the journey was challenging but intriguing. Against all rational odds, two years later, after numerous escapades and wild adventures requiring immediate cultural immersion, they had driven throughout Africa, before finally arriving in Johannesburg. After exploring South Africa, they returned to England to work and gather funds for further international traveling. Jamie worked in construction and setting up exhibitions. Nikki began what would become a twenty-year stint as caterer to some of the world's top rock bands. Among others, they included Santana, Deep Purple, Iron Maiden, Genesis, Robbie Williams, Tracey Chapman, and the Gypsy Kings.
They subsequently traveled for a few years in Central and South America, New Zealand, Australia and South East Asia before finally arriving in the Philippines. Unknown to them, the Philippines would become their final destination, a place they would call home. In 1998, Jamie took his diving instructors exam in Moalboal, Cebu. He soon was giving diving lessons in Siquijor and Apo island.
In 2000, they decided to explore the southern tip of Negros Oriental. They paddled out into the Sulu Sea. Eventually they happened upon a beautiful, almost deserted beach. Intuitively drawn to the beach, they paddled in and chatted with an old fisherman. They asked who owned the land. It was a man in Australia. They contacted him and initially arranged leased the beach area from him for two years.
On October 1st 2001 they struggled to get through the thick growth down to the beach. It's important to remember it was only relatively recently that good road was built in their area. A pathway was also created to allow guests comfortable access to Kookoo's Nest. Later that day in 2001, they began working with local men to build what would eventually become Kookoo's Nest Eco-Lodge, the new home for these expats starting a business here in The Philippines They had a commitment to building with respect for the environment by using only sustainable materials, using traditional building methods, and employing only local people from Antulang and Tambobo villages. Long before it became popular, Jamie and Nikki had an environmentally conscious mindset and were determined to leave minimal negative imprint on the landscape. They first put up a roof for a restaurant, a hut for a kitchen, two bamboo style sleeping huts, and a hand pump for water.
On December 1st they business in the Philippines with one guest finding his way down to the beach. For several subsequent years they spent six months each year here and the remainder working in England. They needed to earn money so they could continue building Kookoo's Nest while also living here. They took a long lease on the property and built more guestrooms. They also began a scuba diving school with Jamie instructing. And, as is often said, the rest is history.
We asked what advice they would give to any foreigner considering opening a new business here in the Philippines. "Start small and expand into your niche." Said Jamie. "An economic recession is not necessarily a bad time to start a business here. And don't worry excessively about the bureaucracy. Just get on with the process, apologize when required, and subsequently get the permits. And importantly, have a solid exit strategy if the business fails."
Jamie and Nikki are exemplary, well respected foreigners who create significant good will in their community and throughout the Dumaguete area with their business in the Philippines. All of their employees have been with them since they began operations. Children of those employees are now also working with them. If you are expats starting a business here, theirs would be a good lead to follow
Long may Jamie and Nikki continue to prosper while also bringing their wisdom and community-oriented business to the Dumaguete area as expats starting a business in their tropical paradise!
Jamie and Nikki may be contacted in the following ways:
If you see your future as an expat starting a business in the Philippines, check out our section for second life entrepreneurs