Jule's Retirement Destination – Dumaguete!
At Retire Dumaguete we are writing a series of blogs that discuss the lives of ex-pats who decided to make Dumaguete their retirement destination. These ex-pats come from several European countries and also from Canada and the United States. They are representative of the ex-pat community that now calls Dumaguete home. What is it that attracts so many foreigners to Dumaguete? Each person's journey is unique, but the reasons why they live here are generally similar. Here's Jules' story.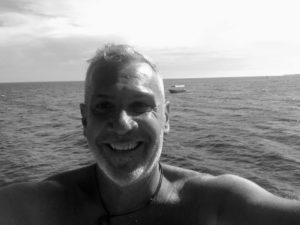 Jules is originally from Manchester City, England, and a passionate supporter of Manchester City football club. He chose the travel industry for his career so was familiar with many counties prior to coming to the Philippines. So why and when did he come to Dumaguete? Ironically, the Philippines was one of the few countries Jules had not previously visited. A neighbor of his in Manchester kept asking him why he hadn't yet visited her country. Shortly after retiring, he impulsively decided to remedy that. Four years ago, he visited the Philippines for the first time and has never left!
We sat down with Jules and his girlfriend Anna on the beach at Dauin, the world-renowned diving area located close to Dumaguete City. "After retiring, I saw a Qatar airlines advertisement that would conveniently take me to Cebu. Impulsively, I bought a ticket." A few days later, Jules flew from Manchester to Cebu.
He knew nobody in the Philippines, and not much about the people or their culture. Cebu City, while somewhat appealing, was too busy and loud for Jules's liking. After a few days, he took a ferry to Bohol before moving on to Dumaguete. He's lived here ever since and had no intention of leaving. There are many factors that Jules enjoys about his life here.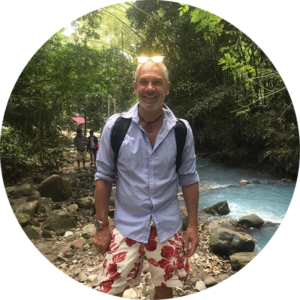 His responses are similar to what most ex-pats tell us about their perspectives. Jules is comfortable financially but, even so, he enjoys the low cost of living in Dumaguete. He was amazed about how inexpensive almost everything here is compared to England. For example, he bought a lot near the beach in Dauin, and had a house build by a Canadian ex-pat who heads up a Dumaguete construction company. Jules commented that the cost of the site, construction, and the high quality of workmanship and materials used, would in England have cost him at least four times the amount he paid in Dauin. And in England, he'd never have his home by a magnificent beach with a tropical climate to enjoy!
Jules also appreciates the Philippine culture with its always optimistic outlook on life, its strong family and community bonds. "Their family is all-important to Filipinos, as is their commitment to the general society. This C19 situation is an example of their sense of community. Almost everyone adheres to the government requirements and collectively work together while waiting for a solution to be found for this virus problem."
The comfortable feeling he has about personal safety here is very important for Jules. Being a world traveler, he'd previously been exposed to many interesting but also occasionally dangerous situations. He has never once, regardless of where he's been or whatever the time of day or night, experienced a feeling in Dumaguete he might be in danger.
Jules is fortunately the type of foreigner who could easily assimilate wherever he decided to live. He possesses an easy charm and a pleasing personality. Perhaps equally important, he recognized the need to quickly and willfully adapt to the Dumaguete lifestyle, particularly regarding general service. "After being used to a certain level of efficiency when living in England, it was a cultural shock to witness such a different attitude to service." Unlike some foreigners, Jules comfortably adapted to his new life and was subsequently, warmly accepted by all the Filipinos he met.
"The people here are wonderful, always in good form, and always calm. In my four years here, I've never once seemed any local being angry. That's another unique Dumaguete reality in this retirement destination."
"The tropical climate is a wonderful contrast to the bleak winter nights in England where we rarely saw the sun for several months. We had to endure the bitter cold, harsh rain. It really made us miserable. It's impossible for me to properly explain who delightful the contrast is here."
Jules has established a close relationship with a lovely Pinay named Anna. Together, they run a successful sightseeing tour company in Dumaguete.
"My life here is so good on every level. I came to Dumaguete for a short visit but look forward to living the remainder of my life in this special place. a retirement destination of my dreams"
If you are a foreigner who is looking to settle down with a Filipina and looking for a perfect retirement destination, check out this section of our website.